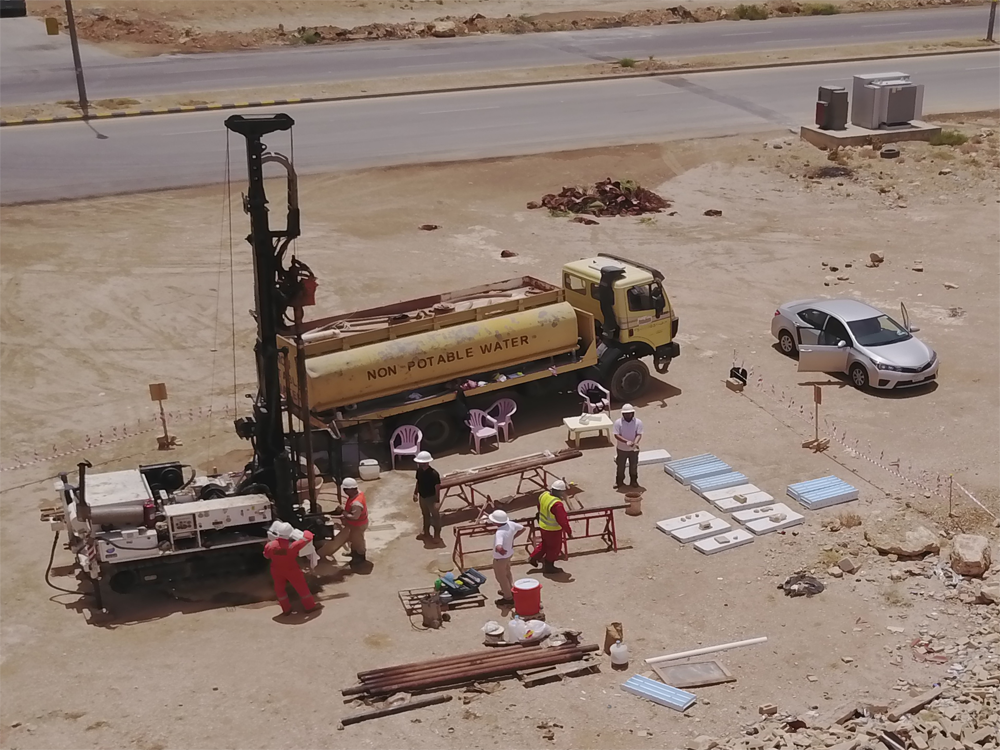 Over the past year, ANPERC has placed a great deal of effort and time to building and equipping a world-class petroleum and geoscience research laboratory facility. Although the center continues to add unique new equipment each day to complete the labs, principle research investigations have already begun in wide range of areas. Among these is the investigation of rock properties from oil and gas reservoirs in the Kingdom and throughout the Middle East. The availability of rock and core material is a critical prerequisite for the success of these research efforts.
Recently, a team from the center, including Professor Volker Vahrenkamp, Senior Research Scientist Dr. Thomas Finkbeiner and Research Scientist Dr. Viswasanthi Chandra, traveled to an area outside of Riyadh to obtain core samples from a reservoir called the Arab-D.
The Arab-D in Saudi Arabia's Easter Province is the most prolific oil-producing reservoir in the world. Understanding its stratigraphic, lithological, petrophysical, mechanical and structural variations are key for developing new strategies to improve recovery. Normally located at a depth of up to thousands of meters below the surface, the Arab-D formation gently dips upward to the west. In the area around Riyadh and other parts of the central region, the formation
breaches the surface and crops out. This provides an opportunity to study and gain valuable insights to these rocks much more ea sily, which serve as useful analogues to their subsurface equivalents in the Eastern Province. Saudi Aramco already took advantage of this fact b y studying in detail and acquiring LIDAR data from a particular road cut location in the Laban District near the Diplomatic Quarter in Western Riyadh. With input and assistance from Saudi Aramco ANPERC acquired approximately 35m of core from the Ar ab-D reservoir analogue drilled at a surface location right behind this same road cut.
"It's an exciting and humbling experience to see the outcrops and examine the freshly drilled cores of the geological formation which hosts one of the most prolific hydrocarbon reservoirs in the world!", says Chandra.
ANPERC will use the newly drilled core as the basis of research into modeling porosity, permeability and flow. This core provides an opportunity to complement Saudi Aramco's existing outcrop data since it delivers a new 3D understanding of the Arab-D in terms of stratigraphic and structural variability. In other words, ANPERC's collection of these core samples provides numerous opportunities for collaboration in the Kingdom, while also offering unique research challenges for ANPERC faculty and scientists investigating fundamental processes in hydrocarbon formation.
"The drilling campaign was a major success that would not have happened without the assistance of many critical partners", says Finkbeiner.
Finkbeiner also explains that follow up plans are already being made to expand the scope of the coring campaign by adding a shallow seismic survey over the same area as well as drilling and coring at least one more well along the outcrop. These additional data would greatly improve research and modeling possibilities of the Arab-D as well as further enhance collaboration not only between different KAUST groups but also with Saudi Aramco and KFUPM. "Many thanks to Saudi Aramco and the KAUST Government Affairs team for their diligent efforts with obtaining the drilling permit approval from Riyadh's government. This project turned into a rewarding experience and smashing success. In the end, the actual drilling and coring could not have gone better and now we are in possession of 35.3m of a beautiful Arab-D core that will serve many research purposes in ANPERC's lab."