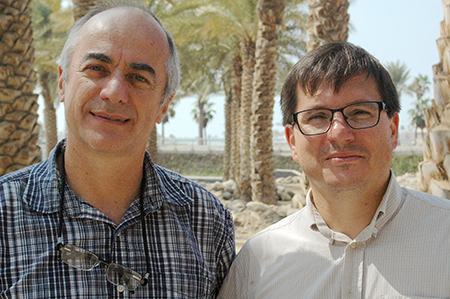 ​
One of ANPERC's key research areas is the production of hydrocarbons from carbonates. This topic is taking center stage this fall thanks to Visiting Professor Dante Fratta.
Currently an Associate Professor of Civil and Environmental Engineering at University of Wisconsin-Madison, Fratta plans to work with ANPERC Associate Director and Professor Carlos Santamarina for six months investigating the electromagnetic properties of carbonates. Together, they will conduct experiments to reveal the electromagnetic properties of oil or water-fill carbonates to help oil and gas engineers monitor and optimize fluid flow in reservoirs during oil production and water floods.
"I am lucky to spend my sabbatical in KAUST and with Carlos," says Fratta, who has been on campus only three weeks. "Carlos is a great dynamo of energy. We have already drafted two very different ideas for potential collaboration. We will use the next few months to develop the foundations of these ideas by running exploratory tests, collecting preliminary data and advancing their analyses."
In addition to these investigations, one of the chief outcomes of their work will be the planned completion of a second edition of Soils and Waves, Prof. Santamarina's groundbreaking text on advanced soil behavior and geophysical characterization. Widely cited and used around the world in graduate courses by petroleum engineers and geophysicists, the new edition of Soils and Waves will update the science behind uncemented sediments – also known as unconsolidated formations in the oil and gas industry.
"This book is a seminal work on the behavior of soils and the use of wave propagation techniques to study properties and processes in geomaterials," says Fratta. "We plan to reorganize large sections of the book and provide physics-based engineering parameters for both researchers and engineers. In addition, we will add three new chapters on thermal properties and heat transfer in sediments. The underlying philosophy of fundamental understanding remains in the second edition of Soils and Waves, but with renewed emphasis on concepts and data relevant to engineering applications."
Santamarina asserts how pleased he is to work with Dante on the second edition of the book. "Dante is a leading expert in near-surface geophysics, with extensive laboratory and field experience using the full spectrum of tools. Working with Dante is always fun, intellectually stimulating and most rewarding."
Fratta hails from Argentina, receiving a Civil Engineering Diploma from the Universidad Nacional de Cordoba (Argentina), a MASc degree from the University of Waterloo (Canada), and a PhD degree from Georgia Tech.
His extensive experience in laboratory and field geophysics includes travel-time and electrical resistivity tomographic imaging of foundation soils and near surface geological formations, bender element-based process monitoring of soils under changing boundary stresses and suction, and rapid methodology for the evaluation in in-situ water content and mass density of soils. His work also includes monitoring thermal exchanges for domestic and large commercial applications using fiber optic measurements, and ground penetrating radar and electromagnetic methods for the evaluation of Karst formations, for monitoring the fate of contaminant plumes, and for imaging of off-shore processes.
Fratta is the author and co-author of more than 90 journal papers, monograms, and conference papers in the area of geotechnical engineering, experimental geomechanics, and near surface geophysics. He is also the co-author of two books and the co-editor of two conference proceedings.
Fratta is just beginning to learn about the unique atmosphere and opportunities for research that are a key aspect of KAUST. He says he's enjoying the myriad opportunities to meet other KAUST faculty and students, and taking advantage of the recreation options. "KAUST is impressive, modern, dynamic, and truly international. It is not what I expected; it is much more. KAUST is an academic oasis where innovative ideas flourish."
If you are interested in learning more about Prof. Fratta and Prof. Santamarina's future book or research activities, you can contact Prof. Santamarina or visit them in ANPERC's offices in Building 5, Level 3, Office 3218.