​If you are an undergraduate or a graduate student looking to conduct your research with amazing faculty and cutting-edge laboratory equipment, then VSRP program is for you!
The Visiting Student Research Internship Program (VSRP) at KAUST provides an opportunity for students to visit KAUST for their research and get a chance to work with highly qualified faculty, meet other graduate students in the field of petroleum engineering, enjoy the beautiful campus and experience the diverse culture at KAUST.
The duration of this program ranges from between three and six months, depending on the research project. To be part of VSRP at ANPERC, visit: https://pse.kaust.edu.sa/Pages/VSRP.aspx
Or visit: https://www.kaust.edu.sa/internship/home.html
In this article we are pleased to share our visiting student's academic and extra curricular experiences during their stay at KAUST this summer.
It has been a few months since I started this amazing experience as a visiting student at KAUST. I am here to work on my undergraduate thesis with the purpose to improve it further and at the same time take advantage of the opportunities
here to help advance knowledge in my field.
When I arrived at KAUST, since the first day, I found in my research team a huge source of knowledge under the mentorship of Professor J. Carlos Santamarina. The aim of the research team is to understand the fundamentals of geo-materials and find creative solutions in the field of engineering.
In addition to the academic quality, KAUST has the best personnel who make sure that you are equipped and comfortable. You get to work in a great environment and also attend social events that cater to KAUST's cultural diversity.
When I was planning to come to Saudi Arabia, I was a little worried about experiencing cultural shock. However, I was amazed to find a multicultural community with people belonging to different parts of the world.
My favorite view at KAUST is the magnificent sun hiding in the red sea at sunset.
I am completing my undergraduate studies at the University of Cauca, Colombia. As a civil engineering student, I have been learning to apply many concepts that I learnt in the mathematics and physics fields. This internship is helping me to improve the data collection and managem​ent tool that was developed in my undergraduate thesis. I am also enjoying the opportunity to learn about the properties and behaviors of soils that I have not previously studied.
So far, this fascinating period of personal and professional growth has opened a door to a new research world for me. I'm happy to be working with the best minds in my field that are pushing me far beyond my expectations.​
​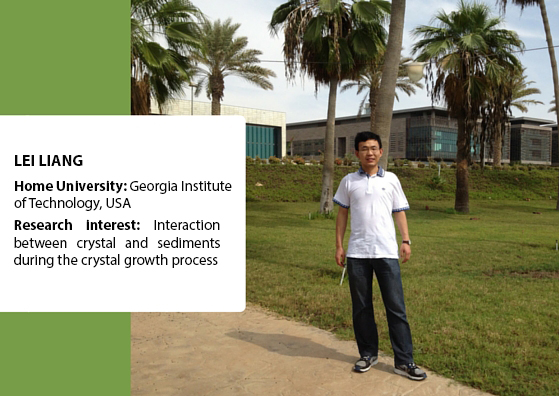 I am Liang from China, currently studying at Georgia Institute of Technology in the USA. This is my second visit to KAUST. I am here as a visiting student and my project is about the interact​ion between crystal and sediments during the crystal growth process. It is a really nice place to do research; I see top minds here delivering top quality lectures and seminars, a great working environment and up-to-date equipment.
I really appreciate the chance to work with the ANPERC team. I was lucky to attend the KAUST Athenaeum workshop hosted by Prof. Tad Patzek. It was a great experience to be able to witness top minds from the petroleum engineering field gather together and challenge one another to solve the most important problems in the industry.
I live in a gorgeous apartment with two roommates. The apartment is very safe, comfortable, and free of charge. I also got a chance to attend the Winter Enrichment Program at KAUST, which covers the extracurricular part of the university including sports, arts and community activities. The first time I came here, I had the chance to go to a top quality concert by seven-time Grammy winner Paul Winter and his team. The theme was whale songs. I was amazed by the performance.
My group members are planning a snorkeling trip and I am looking forward to it. I like the life at KAUST and it is definitely a very good place for students.
Hi everyone, we are Geralds & Josbel, a couple from a small but beautiful city called Barquisimeto in Venezuela. Both of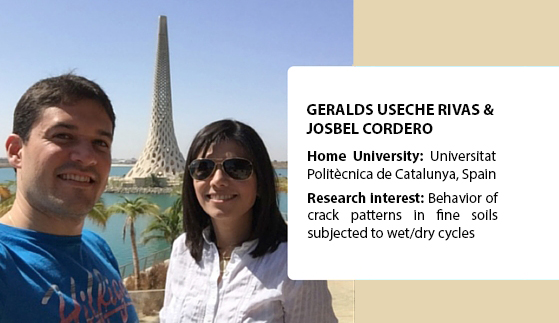 us graduated in Civil Engineering at University Centroccidental Lisandro Alvarado. Over the last couple of years, we have been living in Barcelona, Spain as postgraduate students at the Universitat Politècnica de Catalunya.Apart from the research area one of our main interests as visiting students is the cross-cultural environment that KAUST offers to everyone.
Since we started our application process for the VSRP, KAUST staff have been very supportive and guided us throughout the admission process.
When we landed at Jeddah airport, we were welcomed by KAUST staff, who guided us quickly and easily through the customs process.
Traveling from the airport to KAUST we didn't stop talking to our driver who was more than happy to answer our questions. We asked him about food, cultural norms, prayer times and places to visit in the Kingdom. We enjoyed the whole journey.
KAUST is one of the safest universities in the world and as you enter you can see various security checks on the entrance gates.
Housing staff managed our accommodation within KAUST. We feel very comfortable in the house. The unit is spacious, fully equipped and has a nice architectural design.
From day one we have experienced an excellent work climate that enhances and​ stimulates students' research creativity. In addition, the advisors and group support in the Energy GeoEngineering Laboratory (EGEL) have helped us to further understand our field. We are currently researching the behavior of crack patterns in fine soils subjected to wet/dry cycles with Prof. Carlos Santamarina. During our meeting with the entire EGEL team we heard some inspiring ideas and in the next couple of weeks we will be performing a series of laboratory tests.
The main library at KAUST is huge and you can watch a gorgeous sunset through its large glass wall along with the beautiful KAUST beacon in the background. This sight should definitely not be missed.
One of KAUST's major advantages is that we can save a lot of time that would otherwise be dedicated to traffic and subway delays. It takes a mere 5 minutes to get to the office. Also we are free to work late if we wish, as the buildings are open 24 hours a day.
We are very happy and grateful and are making the most out of our KAUST experience!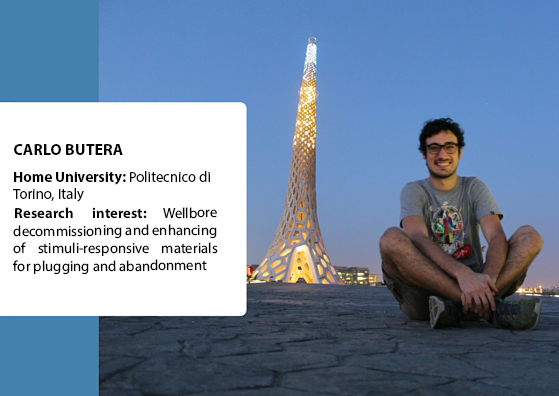 I am from Sicily, Italy, and completed my bachelors in Palermo in 2014. I also studied in Torino, Italy and in Grenoble, France. But no experience is comparable to the one I am having right now.
I am currently at KAUST as a VSRP student working on wellbore decommissioning and enhancing of stimuli-responsive materials for plugging ​and abandonment. When I came here I was surprised to see such an incredibly small 'world' created in only seven years. I was super excited to explore it further and would say that it exceeded all my expectations. KAUST is not just a university; it's a connected and diverse community that brings out the best in you.
I love to travel and the opportunity to discover Saudi Arabia while completing my final Master's thesis with important academics was very attractive to me.
People here are amazing; if you need something everyone will help you! The community is the most multiethnic I've ever seen with people coming from more than 100 different countries, so it is very easy to experience a wide variety of cultures in one place. I've tried Arabic food for the first time. Hummus with Arabic bread has become my favorite that I occasionally savor in Discovery Square.
I am also learning to read and write Arabic…what a surprise! I started it for fun but after three weeks I'm quite proud of my improvement! Of course most of the time I don't know what I'm reading if there is no English translation but it's really fun!
I come from Alcamo--a seaside town. The sea is a big part of my life and I am glad that here in Saudi diving and snorkeling activities are not just easy to plan but also affordable. I've already planned snorkeling trips three weekends out of four next month! I can't wait!​

I am Mohamed Bourizk from Morroco currently studying at Université Grenoble Alpes in France.
I am visiting KAUST as part of the Visiting Student Research Program (VSRP) and my research is about working on simulating the cyclic rise and fall of ground water level using the Triaxial apparatus. Mo​st of my time is spent in the Energy GeosystemsEngineering Lab (EGEL).
I chose KAUST because it is one of the best universities in the world for research and offers the potential to work with the best professors in the field.
My experience at KAUST has been very good as I have made many new friends from different countries. In KAUST I have a witnessed multi cultural environment where each day you can try a variety of foods from different cultures and experience different traditions and customs.
I usually eat at the diner which is the hub of buzz during lunch time. I have tried Asian food and loved it. Apart from research I also enjoy going to the gym at the Harbor Sports club.
On one of the weekends I visited Makkah, and really enjoyed the trip.
My experience with the ANPERC team can be characterized by the intensive research work and a great opportunity to increase my experience and learn more techniques and skills from the expert researchers.

​
-by: Saira Tabassum-