Members of ANPERC will present this week at The Annual Technical Symposium and Exhibition (ATSE) 2016 at Dhahran Expo, Dammam Saudi Arabia. The symposium drives the mission of the Society of Petroleum Engineers in the Kingdom (SPE-KSA) in providing means for trading technical information relevant to the oil and gas industry. The event, spanning four days, features key industry and academic speakers from around the Kingdom and abroad.​
From KAUST, Wardana Saputra, PhD student in Earth Science and Engineering and Maxim Yutkin, Research Scientist at ANPERC are presenting at the conference.​
Saputra's paper is titled: A Cost Effective Method to Maximize the Hydrocarbon Recovery by Optimizing the Vertical Well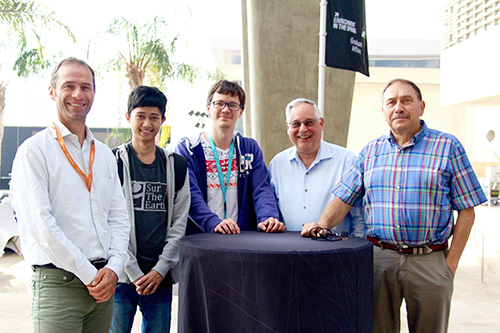 Placements through the Simulation Opportunity Index.
"I have recently arrived at KAUST as a graduate student and now I am invited to present a paper at an international conference. What a good starting point for a new student! Thank you ANPERC for giving me such a valuable chance," says Saputra cheerfully.
Yutkin is traveling with his family by his side and is excited to present on Bulk and Surface Aqueous Speciation of Calcite: Implications for Low-Salinity Waterflooding of Carbonate Reservoirs.
Tad Patzek, Clayton Radke and Thomas Finkbeiner from KAUST are also attending the symposium.
This year's ATSE theme is "Marching Forward In A Dynamic Environment: Turning Challenges Into Opportunities." Participants will attend technical sessions, publication, training courses and workshops.