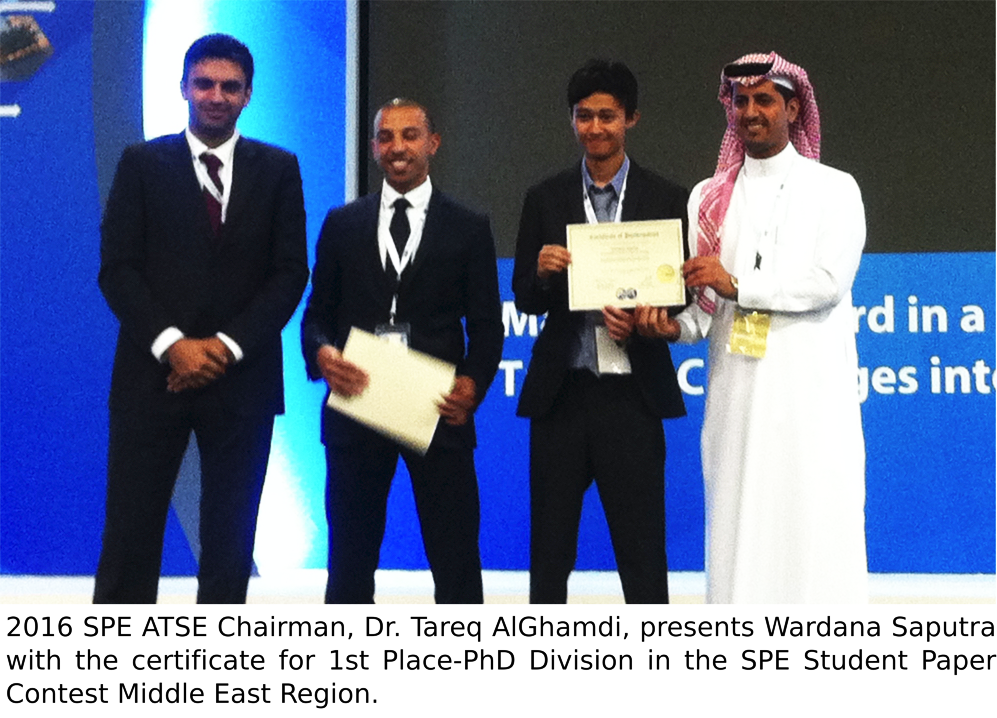 ​​
ANPERC has its first award-winning student paper!
Wardana Saputra, who recently joined KAUST as a PhD student in Prof. Tad Patzek's Earth Geosystems Group (EGG) in ANPERC, was recognized for his outstanding paper at the 2016 Society of Petroleum Engineers Annual Technical Symposium and Exhibition (ATSE) in Dhahran.
Saputra completed his Bachelors in Petroleum Engineering in 2015 from ITB, Bandung, Indonesia. His paper co-authored with Prof. Patzek and Prof. Tutuka Ariadji of ITB, titled A Cost Effective Method to Maximize the Hydrocarbon Recovery by Optimizing the Vertical Well Placements through the Simulation Opportunity Index, won 1st place in the PhD division for the SPE Middle East Student Paper Contest.
Saputra will now represent the entire SPE Middle East region at the largest global gathering of international oil and gas research and technology professionals, the SPE Advanced Technology Conference and Exhibition in Dubai in September to compete with winners from other regions.
In this interview, he shares his experience from the conference.
ANPERC: First of all congratulations! Tell us about your experience.
Wardana Saputra: Thank you. I feel very grateful. It's just that I love conferences and many conferences are conducted by SPE each year bringing in great opportunities for students and young professionals.
I originally proposed my paper to student paper contest and submitted my abstract on the ATSE website and was told that my paper was accepted for e-poster presentation. Later on I was informed that it has been upgraded from e-poster to technical session presentation. It was a great moment for me because in technical session, mostly experts present from academia and industry but students also get a chance to present if their paper is good enough.
ANPERC: You must also have had an opportunity to meet different people and learn a lot of new things over there. How has this conference benefitted you in terms of personal and professional growth?
WS: In a conference you get to meet a lot of new people. I have had a chance to make new friends especially students and people from company. It has also helped broaden my contacts and links and will help me in finding work after graduation.
In technical sessions you come across new ideas and innovation from industry and academia. In exhibitions you can witness the progress in field of science and technology for the respective fields.
This conference has definitely contributed to my experience and growth.
ANPERC: Your family and friends from Indonesia enthusiastically showed their support and excitement for you after a photo of you winning was posted on the ANPERC Facebook page. What was their reaction when you told them of your win?
WS: Haha. Yes they were my friends and family and they were really happy to know that I won first place. My family is very supportive; I owe my win to them. My grandmother was a PhD student at Al-Azhar University in Egypt and a professor in Indonesia. When I was accepted at KAUST, my parents were really proud, because I started from bachelors and fast tracked to PhD and also being in Middle East reminds us all of my grandmother who is not with us anymore.
ANPERC: What message would you like to leave for students like you pursuing their respective careers?
WS: You have to be very passionate about the subject you want to pursue. Prof. Ibrahim Hoteit from KAUST once said: "If you don't have great passion in your research you'll waste your time and your professors time and you'll give up at last."
I love petroleum engineering. I come from a small town in Indonesia where I can see oil and gas pipelines across my backyard. My neighbors work in oil and gas industries and my parents are from field of environment and technology. My surroundings were my inspiration along with my passion for this field. Moreover, Petroleum Engineering is actually a perfect combination of all the subjects that I love, such as Math, Physics, Geosciences, and even Computer Programming.
ANPERC: Anything else that you would like to say?
WS: I want to extend my special thanks to the Earth Geosystems Group (EGG) as they gave me a lot of valuable advice in terms of effective presentation and delivery. They were there for me when I was presenting at the technical session too.
Thank you for your time Wardana! We wish you best of luck in Dubai and other future endeavors! You made us all proud.